Naming and Necessity
By Saul A Kripke,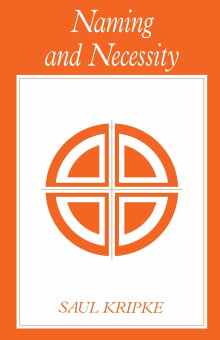 Book description
'Naming and Necessity' has had a great and increasing influence. It redirected philosophical attention to neglected questions of natural and metaphysical necessity and to the connections between these and theories of naming, and of identity. This seminal work, to which today's thriving essentialist metaphysics largely owes its impetus, is here…
Why read it?
2 authors picked Naming and Necessity as one of their favorite books. Why do they recommend it?
Scott Soames
This book, given as three lectures in 1970 by a 28-year-old wunderkind, made its author one of the greatest philosophers of our era.  Just as Russell transformed the philosophy of his day by demonstrating the significance of an advanced system logic he helped to found, so Kripke transformed the philosophy descending from Russell by inventing an expressively richer version logic, and illustrating its significance. This book, more than any other,  provided the starting point for contemporary metaphysics, epistemology, philosophy of language, and philosophy of mind. It is, nevertheless, remarkably accessible.  Delivered in a delightfully informal style, it presents ideas capable…
Timothy Williamson
This book had a revolutionary impact on philosophy. It is a lightly edited transcript of three lectures and retains some of their conversational style. As the title indicates, it is about language as well as metaphysics, but it does not attempt to reduce metaphysics to language. Instead, it does the opposite: it shows how mistakes about how language works had tripped philosophers into mistakes about metaphysics, by making metaphysical questions look nonsensical. A better understanding of how language works does not answer the metaphysical questions, but it does enable us to think more clearly about them, just as astronomers need…