Midnight in the Garden of Good and Evil
By John Berendt,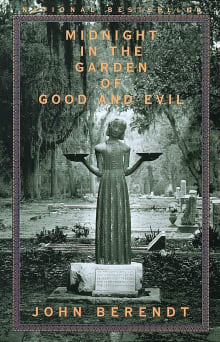 Book description
Genteel society ladies who compare notes on their husbands' suicides. A hilariously foul-mouthed black drag queen. A voodoo priestess who works her roots in the graveyard at midnight. A morose inventor who owns a bottle of poison powerful enough to kill everyone in town. A prominent antiques dealer who hangs…
Why read it?
3 authors picked Midnight in the Garden of Good and Evil as one of their favorite books. Why do they recommend it?
Ken Sheldon
On an early trip to Savannah, I stayed a block from the mansion where the murder at the heart of John Berendt's bestselling book took place and where the movie was filmed. I wrote much of my own book in another apartment not far away. In my writing, I was inspired by the way Berendt included himself in his story and I decided to incorporate some of my own struggles to uncover the truth about the brutal murder of William K. Dean.
Adele Holmes
A favorite guilty pleasure, I read this non-fiction novel on repeat. And egads, please don't miss the cover photo of The Bird Girl, a chilling statue that inhabits a cemetery. It drips Southern Gothic, as does the name of the book itself: the half-hour before midnight is a time for good magic, the half-hour after is time for malevolence. Have goosebumps yet?
The story is based on the murder of a prostitute for which the protagonist is accused. The allure of the tale includes fascinating, eccentric characters, the beauty of Savannah's haunting charm, and the mystical underpinnings of hoodoo which…
Silvia Pettem
This is a book I read a long time ago, but it stuck with me for its humor –– rare in any book about crime. The murder (or was it self-defense?) took place in Savannah, Georgia, and was said to have "everything going for it –– snobbism, ruthless power, voodoo, local color, and a totally evil estheticism." Another reviewer wrote, "John Berendt has written a gorgeous and haunting blend of travel book and murder mystery. It is enchanting and disturbing and deeply atmospheric."