Memoirs of the Comtesse de Boigne 1815 - 1819
By Charles Nicoullaud (editor),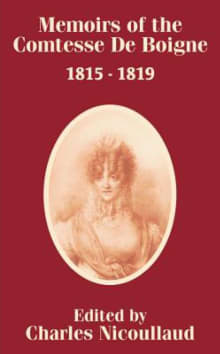 Book description
The personal writings of a 18th-19th century French Noble woman taken from her personal writings. Her papers (published in several volumes) throw many side-lights upon a long period extending from the reign of Louis XIV to the Revolution of 1848, and this rather by means of the special details which…
Why read it?
1 author picked Memoirs of the Comtesse de Boigne 1815 - 1819 as one of their favorite books. Why do they recommend it?
Philip Mansel
Madame de Boigne describes the same period as Chateaubriand, whom she disliked, from a liberal perspective. Both had their style and mind improved by suffering during the Emigration, which also made both, for a time, feel half-English. Boigne married a French officer who had made a fortune in India, but failed to tell her he had brought back an Indian wife. She took his money and returned to live with her parents. 
Born with what she called a 'taste for royalty and the instinct for court life', she described salons and quarrels, royalty and revolution, Paris and England, from 1780…