Macachiavellian Intelligence
By Dario Maestripieri,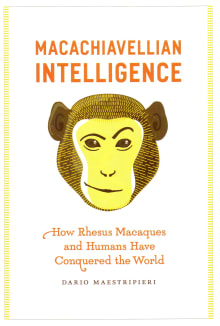 Book description
Judged by population size and distribution, Homo sapiens are clearly the most successful primates. A close second, however, would be rhesus macaques, who have adapted to - and thrived in - such diverse environments as mountain forests, dry grasslands, and urban sprawl. Scientists have spent countless hours studying these opportunistic…
Why read it?
1 author picked Macachiavellian Intelligence as one of their favorite books. Why do they recommend it?
Loretta Graziano Breuning
Macaque monkeys are machiavellian, get it? This is a proper academic survery of macaque social behavior in the wild. I was amazed to learn that social climbing behaviors is not just a chimp thing, and not just a male thing. Female monkeys are shameless social climbers, and this promotes the survival of their genes just like biologists tell us. Monkeys cooperate as well as compete, but they calculate when to cooperate and with whom. In short, they cooperate when it promotes their genes. When the calculating behavior of humans gets you down, it's helpful to know how monkeys do the…