Latin for All Occasions
By Henry Beard,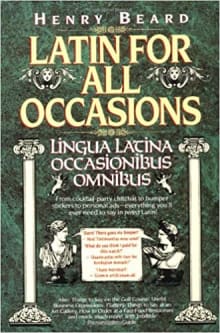 Book description
With more than 200,000 copies in print, Latin for All Occasions and its follow-up, Latin for Even More Occasions, have helped scores of readers harness the language of Caesar and Cicero. Impress your boss with Occupational Latin (Lingua Latina Occupationi); sell your product with Sales Latin (Lingua Latina Mercatoria); flirt…
Why read it?
1 author picked Latin for All Occasions as one of their favorite books. Why do they recommend it?
David Wishart
Here it is! Everything from a simple 'I'll have a bucket of fried chicken' ('Da mihi sis hamam carnis gallinaceae frictae') to a crafted curse like 'May conspirators assassinate you in the mall!' ('Utinam coniurati te in foro interficiant!'), via such gems as 'Do you want to dance? I know the Funky Broadway' ('Visne saltare? Viam Latam Fungosam scio') and 'Eat my shorts!' ('Vescere bracis meis!'). Need to know how to impress your native-speaker co-diner in a pretentious restaurant? Try 'Vinum bellum iucundumque est, sed animo corporeque caret' ('It's a nice little wine, but it lacks character and depth.'). Or…