Justice in the Balkans
By John Hagan,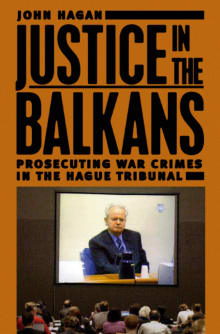 Book description
Called a fig leaf for inaction by many at its inception, the International Criminal Tribunal for the Former Yugoslavia has surprised its critics by growing from an unfunded U.N. Security Council resolution to an institution with more than 1,000 employees and a $100 million annual budget. With Slobodan Milosevic now…
Why read it?
1 author picked Justice in the Balkans as one of their favorite books. Why do they recommend it?
Judith Armatta
An easily accessible overview of development and internal workings of the International Criminal Tribunal for the former Yugoslavia (ICTY) up to the first stages of the Milosevic trial. Hagan satisfied my interest in what happens behind the scenes: the struggles, losses, and triumphs of creating the first international war crimes court since Nuremberg and Tokyo. I found particularly illuminating his discussion of how an ICTY prosecution team developed the legal theory, supported by substantial evidence, of rape as an intentional strategy to further the goal of ethnic cleansing, for the first time making it a war crime in its own…