Imperial San Francisco
By Gray Brechin,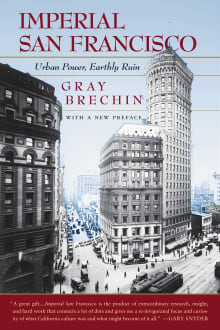 Book description
First published in 1999, this celebrated history of San Francisco traces the exploitation of both local and distant regions by prominent families - the Hearsts, de Youngs, Spreckelses, and others - who gained power through mining, ranching, water and energy, transportation, real estate, weapons, and the mass media. The story…
Shepherd is reader supported. We may earn an affiliate commission when you buy through links on our website. (learn more)
Why read it?
3 authors picked Imperial San Francisco as one of their favorite books. Why do they recommend it?
Noel Keough
San Francisco the good, an icon of diversity, creativity, and prosperity, is how I imagined the city. This book weaves a compelling, alternative narrative. Brechin tells his story through the rising fortunes of founding fathers–politicians, engineers, and entrepreneurs–many today memorialized in San Francisco's public spaces and places. People like media tycoon William Randolph Hearst Jr. with all his narcissism, wealth, and political ambition (remind you of anyone?). The book unearths the city's beginnings in the rapacious extraction of resources in frontier California. It illustrates (through art, newspaper cartoons, and headlines) the city as the spearhead of an emerging…
Elizabeth Linhart Veneman
In Imperial San Francisco, Gray Brechin lays out San Francisco's foundation not as a boom town wunderkind but as a classic imperial city, whose very existence is built upon the spoils of its hinterlands. We learn of the city's plunder of Northern California's riches from gold to water, and the minting of this great fortune into political power and military might with the intent to dominate the Pacific. It's a story animated by names known from street signs and the society pages, who consolidated wealth and protected power through xenophobic propaganda. But it's a story also told through the…
Chris Carlsson
There are few books about San Francisco that have so successfully situated the City in a regional and geographic history, as well as naming the names of the wealthy elite that have managed to dominate local government, media, business, water sources, land, technological choices, and far-flung world markets. Starting with the early fortunes drawn from the rapacious destruction of nature and turned into valuable downtown real estate, and ending with the venal Regents who dominate the University of California and its shameful embrace of the nuclear war industry, this beautifully written book will forever shape your idea of San Francisco…