I Talk Like a River
By Jordan Scott, Sydney Smith (illustrator),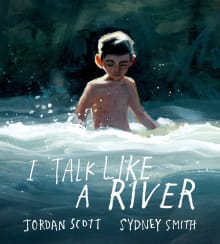 Book description
Winner of the Schneider Family Book Award
Boston Globe-Horn Book Award Winner

 
What if words got stuck in the back of your mouth whenever you tried to speak? What if they never came out the way you wanted them to?
 
Sometimes it takes a change of perspective to get the…
Why read it?
3 authors picked I Talk Like a River as one of their favorite books. Why do they recommend it?
Mónica Armiño
When my oldest son was little, he was so nervous that he began to stutter. I thought it would be a problem for him, but luckily it was just a phase. That is why the theme of the book, in which the author recalls his childhood as a stuttering child, caught my attention. Regardless of the problem, I think we can all identify with that child who feels vulnerable, who fights against himself, and who accepts himself. We have all felt this way in childhood. And now as adults, we can identify with that father, who serenely accompanies and supports…
Jyoti Rajan Gopal
This book swept me into its pages like the very river that embodies the boy's voice in this story. When the author tells us that certain letters "tangle my tongue" or grow "roots inside my mouth", the painful realities of having a stutter are made poignantly clear. This tender, moving story is not just for those who stutter but just as importantly, for those who don't. It brought home to me in such an eloquent way the isolation that can come from being unable to speak with fluency and the power of acceptance to counteract that isolation. I love how…
Meeg Pincus
This book is just so beautiful and personal, from the poetry to the art, that it hits right in the heart. Basically a simple picture book memoir of a boy figuring out how to deal with his stutter, I love how it is about everyday mindset, not any grand action, and how a small shift can change so much. It's about the beauty of silence and understanding from a parent to a child, and it gives kids (and adults) without a stutter a glimpse at what it might feel like to struggle with forming words in that way. This book…