Here Be Dragons
By Sharon Kay Penman,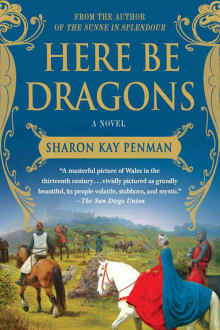 Book description
An absorbing historical novel of power and betrayal, loyalty and political intrigue in thirteenth-century England, Wales and France, centring on King John of England, younger brother to the brilliant Richard Lionheart, Joanna, his illegitimate but recognised daughter and Llewellyn Ab Iowerth, Prince of Gwynedd, a bitter opponent of English ways,…
Why read it?
2 authors picked Here Be Dragons as one of their favorite books. Why do they recommend it?
E.L. Daniel
I seriously enjoy a good "between-a-rock-and-a-hard-place" romance, especially when the female heroine is able to navigate it while staying true to herself. In this one, King John weds his illegitimate but beloved daughter Joanna to his bitter enemy, Llewelyn, Prince of North Wales, in an effort to take Wales under his control. But Joanna loves both of them—father and husband—and is forced time and again to prove her loyalty to one side or the other, until neither faction supports her in return. While this definitely portrays the helplessness that many medieval women faced, often experiencing a forced marriage for some…
Alma Alexander
The first book in her Welsh trilogy, involving the two fabled Llewellyns of Wales, Here Be Dragons brings the medieval world to vivid trembling life – and it is an achievement all the greater because it was a time when women (aside from the indomitable Eleanor of Aquitaine and a bare handful like her) were largely historical footnotes. The female protagonist of this particular novel (and I will not elaborate further here on this but there are others like her in the books that follow) is Joanna, the daughter of King John (the hapless brother of the Lionheart). Against a…