Etruscan Art
By Richard De Puma,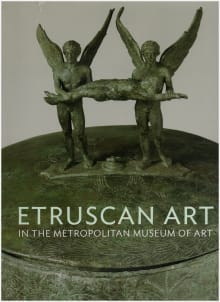 Book description
This informative and engaging book on the Museum's outstanding collection of Etruscan art also provides an introduction to the fascinating and diverse culture of ancient Etruria, which thrived in central Italy from about 900 to 100 B.C. Masterpieces of the collection include 7th century B.C. objects from the Monteleone di…
Why read it?
1 author picked Etruscan Art as one of their favorite books. Why do they recommend it?
Sinclair Bell
The Metropolitan Museum of Art has a collection of Etruscan art that is unrivalled within the United States, but for many decades it was not updated and many important works sat out of view. The reinstallation of the Etruscan galleries in 2007 was thus not only a major event for the museum's public, but for the field of Etruscology more broadly. This sumptuously-illustrated book, written by a leading expert in Etruscan art, introduces the reader to the rich visual culture of the Etruscans, from their earliest creations to some of their most famous masterpieces.