Empire of the Summer Moon
By S.C. Gwynne,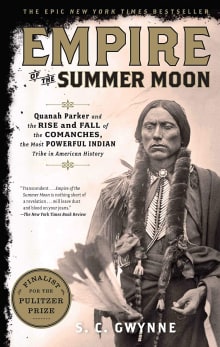 Book description
In the tradition of Bury My Heart at Wounded Knee, a stunningly vivid historical account of the forty-year battle between Comanche Indians and white settlers for control of the American West, centering on Quanah, the greatest Comanche chief of them all.
S. C. Gwynne's Empire of the Summer Moonspans two…
Why read it?
3 authors picked Empire of the Summer Moon as one of their favorite books. Why do they recommend it?
Michelle Bennington
I cannot speak highly enough of Gwynne's book! This book is only a few hundred pages, but he somehow manages to detail the very complex relationships between Texas, Mexico, the United States government, and the Comanche Indians while making a believable case for the Comanche being an empire in its own right.
While I'm a big history nerd, I tend to focus on European history. But lately, I've come to have a deeper appreciation for U.S. history. It certainly gave me a broader understanding of the Wild West, indigenous people, and the socio-political atmosphere.
The best part is that it…
Sam Foster
Gwynne tells us the Comanche's only businesses were robbery and slave trading. But he does give them credit for the geography of America. That is holding both the French and Spanish at bay until America was ready to take the land. The measure of their men was not in what they would die for but what they would have others die for.

Peter Cozzens
In Empire of the Summer Moon, author S. C. Gwynne offers the most exhilarating and even-handed account of the history of an American Indian tribe and its tragic clashes not only with encroaching Americans but also with other Indian peoples that I have ever read. He adroitly juxtaposes the tale of the fierce Comanches with the fate of Cynthia Ann Parker, a white captive who wed a Comanche, and her extraordinary son, the mixed-race Chief Quanah Parker, whose remarkable life exemplified the complexities of white interactions with the Indians of the West.