Dino Deegan and the Unpleasant Class
By Heather E Robyn, Zoe Mellors (illustrator),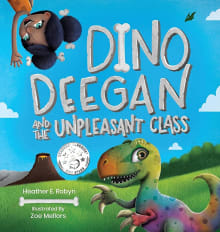 Book description
When you see another person being treated unfairly, what do you do?

Days at school are tough for Dino Deegan. Being included at recess is his dream, but his claws are so big that they get in the way, and other children and dinosaurs bully him for it.  

"Your claws…
Why read it?
1 author picked Dino Deegan and the Unpleasant Class as one of their favorite books. Why do they recommend it?
Kim Ann
A great book with a wonderful message and beautiful illustrations by Dr. Robyn.
The book takes place in prehistoric times and has fun dino details on every page. The main character, Dino Deegan, has trouble making friends, but goes through a transformation throughout the story which is very cleverly visualized as he changes colors at the end.
This should be a classroom tool to teach children about friendship, being kind, and including others in the fun.