Defusing American Anger
By Zachary Elwood,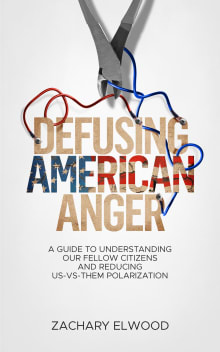 Book description
This is a book about our American divides by Zachary Elwood, host of the psychology podcast People Who Read People. Learn more about this book and its author at www.American-Anger.com.

"I can't think of anyone I've seen who better practices what they preach, who better lives their ideals about depolarization.…
Why read it?
2 authors picked Defusing American Anger as one of their favorite books. Why do they recommend it?
Daniel F. Stone
This book is quite different from the others on my list in that the author is a total outsider to politics: Elwood is a former professional poker player.
But it's the book that resonates with me the most as it directly makes the case that affective polarization is bad for the country and is to a large extent misguided—and citizens across the spectrum should actively try to overcome and fight it. Elwood writes informally and engagingly while still referring to tons of academic research and tackling many thorny recent issues in detail.
If there was one book that I would…
Taylor Dotson
What I like about Defusing Anger is that it is more than just an accessibly written primer on political polarization.
Zachary Elwood takes the time to break down contentious political issues like immigration, showing why people can reasonably come to different conclusions. I recommend this book to friends and family because it tries so hard to understand the perspectives of both liberals and conservatives. If we are to bridge America's divides, it will be by more often practicing the "perspective taking" showcased in Defusing American Anger.