Cougar Crossing
By Meeg Pincus, Alexander Vidal (illustrator),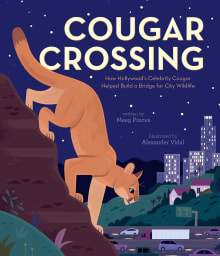 Book description
Discover the amazing true story of P-22, the wild cougar living in Los Angeles, in this inspiring picture book.

P-22, the famed "Hollywood Cougar," was born in a national park near Los Angeles, California. When it was time for him to leave home and stake a claim to his own…
Why read it?
1 author picked Cougar Crossing as one of their favorite books. Why do they recommend it?
Erica Silverman
A true story about my favorite cougar. P-22, (Puma 22) became famous when he miraculously managed to cross four freeways and make his home in a big city park near downtown Los Angeles. His fame inspired a campaign to build a wildlife crossing between two mountain ranges, over one of the world's busiest highways. This book tells of P-22 and the scientists who are creating a better future for wild creatures and the humans who love them. I've been a fan of P-22 for many years and was thrilled to read this wonderful book about him.