Camera Lucida
By Roland Barthes, Richard Howard (translator),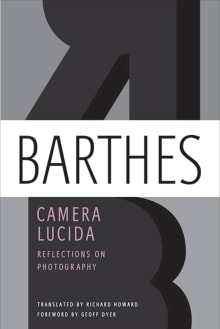 Book description
This personal, wide-ranging, and contemplative volume--and the last book Barthes published--finds the author applying his influential perceptiveness and associative insight to the subject of photography. To this end, several black-and-white photos (by the likes of Avedon, Clifford, Hine, Mapplethorpe, Nadar, Van Der Zee, and so forth) are reprinted throughout the…
Why read it?
2 authors picked Camera Lucida as one of their favorite books. Why do they recommend it?
Barry Sandywell
In contrast to John Berger's Marxist aesthetic, Barthes's approach to visual experience and photographic images draws upon the tradition of semiotics and, to a degree, postmodern theories of text and intertextuality. Barthes leads his reader into the codes and conventions of the image. How images signify is thus made a central topic that provokes self-reflection and reflexive challenges to conventional image analysis. Where Berger's work is expository and analytic, Barthes's book is exploratory and novelistic (Barthes would have his reader approach the work as a kind of intertextual fiction). As the title of the work suggests, this is Barthes at…
Laurence Scott
I was stunned when I read Barthes's book on photography! His primary question in this short work is why photographs affect him in ways different from other art forms. He finds a new language to describe how they hit his nervous system and provoke his emotions. While Barthes figures out the mysterious aura of old images, we begin to learn how they affect us as well. This is a beautiful, erotic work about suspended moments in time, as well as an elegy for loved ones preserved in this haunted medium.