Becoming Animal
By David Abram,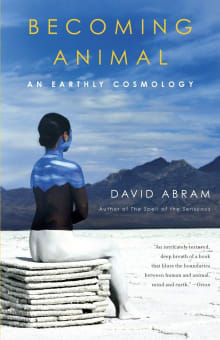 Book description
David Abram's first book, The Spell of the Sensuous has become a classic of environmental literature. Now he returns with a startling exploration of our human entanglement with the rest of nature.
 
As the climate veers toward catastrophe, the innumerable losses cascading through the biosphere make vividly evident the need…
Why read it?
2 authors picked Becoming Animal as one of their favorite books. Why do they recommend it?
Sarah R. Pye
Becoming Animal changed the way I look at my habitat. I hope it does the same for you. In his philosophical musings, David Abram contemplates why nature is something we look at, not something we are. He suggests our calloused coldness and ordered separation from other species allows us to subdue the wild-ness, but it comes with a numbing feeling of solitude. I too believe our disconnect with natural systems fuels many human ailments (physical and psychological). I love Abram's suggestion that we change the spelling of Earth to Eairth to acknowledge that we, and the air we breathe, are…
Jessica Pierce
Abram's 1997 book, The Spell of the Sensuous, is (in my humble opinion) one of the most important works in American environmental ethics. Abram helps us understand how we have become so disconnected from nature. His second book, Becoming Animal, tries to help us overcome this disconnection through enlivening our sensory, our sensual experience of the world. I am still learning how to distinguish the sound of wind passing through a pine from the sound of wind passing through a spruce.