Amy and Isabelle
By Elizabeth Strout,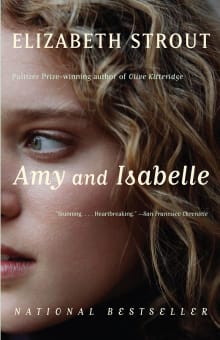 Book description
From the Man Booker Prize longlisted author of My Name is Lucy Barton

Isabelle Goodrow has been living in self-imposed exile with her daughter Amy for 15 years. Shamed by her past and her affair with Amy's father she has submerged herself in the routine of her dead-end job and…
Why read it?
2 authors picked Amy and Isabelle as one of their favorite books. Why do they recommend it?
Susan Beckham Zurenda
In this exceptional story that I've read twice, Elizabeth Strout places a seemingly ordinary, though distant, mother and her shy teenage daughter in the provincial town of Shirley Falls, Maine, to create a stunning awakening in the daughter Amy and foster the admission of a long-hidden secret by Amy's mother Isabelle. As much as Amy thinks her development is about her sexuality, it is more about forming a relationship with her lonely mother. After Amy learns her mother's story, she learns her most important moment of identity has not been sexual initiation, but her self-acceptance. The relationship between mother and…
Sarah McCraw Crow
Elizabeth Strout's debut novel is a dual coming-of-age novel, at least in my view. Single mother Isabelle and her sixteen-year-old daughter Amy live in the small, gossipy New England mill town of Shirley Falls. It's the late '60s, and Isabelle is determined to raise her daughter right and live a proper life. But Amy falls in love with the wrong guy. As teenage Amy rebels against Isabelle's strictures, and as Isabelle tries to ferret out what Amy's been up to, they move through a rough summer, and both are changed as they begin to understand themselves, and one another, differently.…