Amusing Ourselves to Death
By Neil Postman,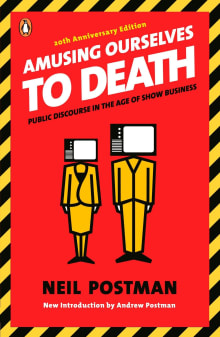 Book description
What happens when media and politics become forms of entertainment? As our world begins to look more and more like Orwell's 1984, Neil's Postman's essential guide to the modern media is more relevant than ever.

"It's unlikely that Trump has ever read Amusing Ourselves to Death, but his ascent would…
Why read it?
2 authors picked Amusing Ourselves to Death as one of their favorite books. Why do they recommend it?
Tobias Rose-Stockwell
It might've come out originally in 1985, but this book has stood the test of time.
Amusing Ourselves to Death provides deep important context on the history of entertainment, news, and media, showing that trends in entertainment have changed how we see the world. Inspired by a talk Postman gave on Orwell's 1984, the book delivers a clear-eyed analysis of how the demand for constant entertainment is poisoning society, as well as a roadmap for creating healthier information ecosystems.

Carol Tavris and Elliot Aronson
When Neil Postman wrote this book in 1985, few realized how brilliantly it would predict our present media-saturated times. Postman foresaw how the blurring of news and entertainment would eventually turn politics into theater; how the allure of quick and sensational news bites would diminish our ability to focus on serious, sustained issues; how glitzy if appealing entertainments would shrink our attention spans; and, most dangerous of all, how the immersion in "amusements," a seemingly benign and enjoyable process, would have dire consequences for human happiness, well-being, education, journalism, and politics. We highly recommend this book because navigating the road…