All That Is Solid Melts Into Air
By Marshall Berman,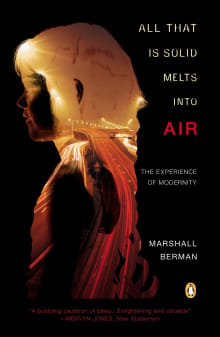 Book description
"A bubbling caldron of ideas . . . Enlightening and valuable." Mervyn Jones, New Statesman.
The political and social revolutions of the nineteenth century, the pivotal writings of Goethe, Marx, Dostoevsky, and others, and the creation of new environments to replace the old all have thrust us into a modern…
Why read it?
2 authors picked All That Is Solid Melts Into Air as one of their favorite books. Why do they recommend it?
Sonia A. Hirt
A modern classic! A fascinating analysis of arts, culture, literature, and social and urban change. A breathtaking read of Goethe's Faust to Dostoyevsky's Notes from the Underground and a sharp analysis of what Hausmann's Parisian boulevards have to do with the prospects of pre-revolutionary St. Petersburg and the highways of mid-century New York. Fantastic chapters on Karl Marx (from whom the title of the book is borrowed) and Charles Baudelaire. Written with poetic perfection!
Thomas Dyja
This book ranges through some pretty unexpected territory as it probes the nature of modernity and development in New York—Goethe and Baudelaire; Russian literature. But just lean back and take it all in because Marshall Berman explains how it matters to modern New York with a combination of breathtaking intellect and an Everyman's experience of urban life. Though he was a globally important Marxist philosopher, he was first and foremost a passionate New Yorker, so he makes all his big ideas come alive in the streets.