Alcoholics Anonymous
By Bill W.,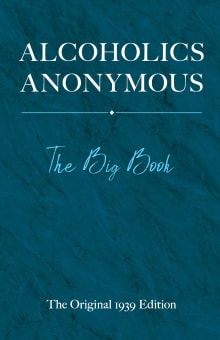 Book description
Many thousands have benefited from "The Big Book" and its simple but profound explanation of the doctrines behind Alcoholics Anonymous, which was founded in 1935 by Bill Wilson and Dr. Bob Smith. This original 1939 edition outlines the famous 12 steps, and offers counsel for those who wish to join…
Why read it?
3 authors picked Alcoholics Anonymous as one of their favorite books. Why do they recommend it?
Christopher Dale
You can't stay married if you're dead. Don't die. Read this book. 
There's a reason TIME Magazine included the central text of the world's most prolific recovery organization on its list of Best 100 Nonfiction Books of All Time: the book that gave AA its name likely has saved more lives than any other singular narrative in the past century.
AA not really for you? Reading Alcoholics Anonymous does not mean joining Alcoholics Anonymous. The themes co-authors Bill Wilson and Dr. Bob Smith discuss – and the Twelve Steps of Recovery in particular – have near-universal relevance to anyone…
Deb Palmer
How can I not recommend the book that has changed so many lives, including mine. If you don't find a personal story in this book that relates to you, I promise you will recognize a friend, relative, or co-worker. With each edition, fresh stories are added. And, the steps are explained with backstory and details to help find the road to recovery.  It's a must-have for anyone suffering from addiction or who knows someone who is. 
James Brown
The Big Book of A.A. is the single, most influential, and effective book on addiction and recovery ever written. Sadly, it is also one of the most controversial. In an increasingly secular society, A.A.'s emphasis on God, or a "Higher Power" has led many to turn away from its program of recovery. A.A. has also been accused of being a shame and guilt-based program. Whatever the criticism, valid or not, The Big Book has helped millions of alcoholics and addicts get sober. I would've listed it as my first choice if not for the possibility of being prematurely judged by…