Albion's Seed
By David Hackett Fischer,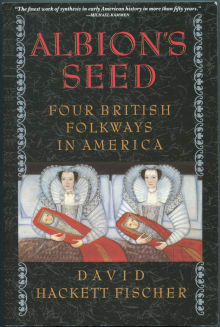 Book description
Eighty percent of Americans have no British ancestors. According to David Hackett Fischer, however, their day-to-day lives are profoundly influenced by folkways transplanted from Britain to the New World with the first settlers. Residual, yet persistent, aspects of these 17th Century folkways are indentifiable, Fischer argues, in areas as divers…
Why read it?
2 authors picked Albion's Seed as one of their favorite books. Why do they recommend it?
Craig Nelson
Albion's Seed charts how four different British groups migrated to North America and brought their cultures with them.
It reveals that a great many things that we think of as uniquely American—from work ethic, to language, to education, to lifestyle, to food—instead arrived alongside the Puritans to New England, the Quakers to Pennsylvania, the Cavaliers to Virginia, and the borderland settlers to the backwoods. Fischer's cumulative power will make you fully question what makes Americans, and their nation, unique.
Tristram Riley-Smith
This masterpiece is the equivalent of an MRI scan of America's cultural history. Its 900 pages are packed with scintillating insight into patterns of behaviour and belief underpinning the lives of ordinary Americans. Fischer uncovers ways of thinking and acting that traveled with migrants from the British Isles: Puritans from East Anglia, Cavaliers from the South of England, Quakers from the North Midlands, and English/Scottish Borderers. The author explores and explains American ideas of liberty, time, property, family, ways of working, law and order, and so much more.