Across Atlantic Ice
By Dennis J. Stanford, Bruce A. Bradley,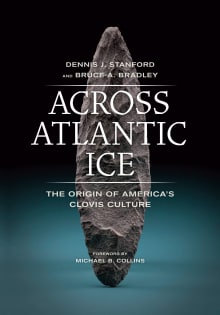 Book description
Who were the first humans to inhabit North America? According to the now familiar story, mammal hunters entered the continent some 12,000 years ago via a land bridge that spanned the Bering Sea. Distinctive stone tools belonging to the Clovis culture established the presence of these early New World people.…
Why read it?
1 author picked Across Atlantic Ice as one of their favorite books. Why do they recommend it?
Paulette F.C. Steeves
Dennis Stanford one of the Clovis first police, changed his mind about the Clovis first hypothesis after carrying out excavations along the mid-Atlantic coast of North America. This book provides an informed view of pre-Clovis sites, paleo climates, and the possibilities for human migrations between the eastern and western hemispheres via the Atlantic. Evidence for human migrations between the eastern hemisphere known today as Southern France and the Western Hemisphere known today as the Americas during the Pleistocene are supported through rigorous research and possible linkages between stone tools known as Solutrean technologies found in both areas.