18 Tiny Deaths
By Bruce Goldfarb,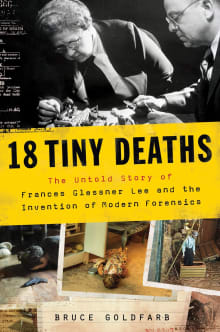 Book description
A captivating blend of history, women in science, and true crime, 18 Tiny Deaths tells the story of how one woman changed the face of forensics forever.
Frances Glessner Lee, born a socialite to a wealthy and influential Chicago family in the 1870s, was never meant to have a career,…
Why read it?
2 authors picked 18 Tiny Deaths as one of their favorite books. Why do they recommend it?
Frances McNamara
The Nutshell Studies are now located in Maryland at the medical examiner's office.
Goldfarb worked there and his book provides information on how Frances Glessner Lee became involved in the work of her brother's old friend Dr. George Meredith Magrath who was medical examiner in Boston (Suffolk County).
His work demonstrated the need for a technically proficient medical examiner system to replace the old coroner system and for police detectives to be trained to deal with a crime scene. Called Legal Medicine at the time, this was the beginning of forensics as we know it now.
It's fascinating how one…
C. A. Asbrey
This is a biography of one of the unsung heroines of forensic science, and a lady who should never have ventured into the world of work at all. A socialite born in 1870 is an unlikely feminist hero, but she not only made the investigation of violent crimes her life's work, she revolutionised the methodologies. Once you've read this book you'll never look at a doll's house the same way again.