Wonderful Tonight: George Harrison, Eric Clapton, and Me
By Pattie Boyd, Penny Junor,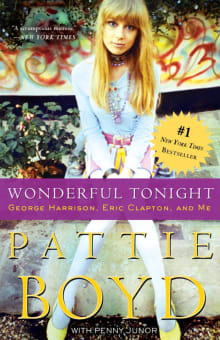 Why this book?
In 1964 Pattie Boyd, a beautiful young Carnaby Street model working as an extra on the Beatles "A Hard Day's Night," sat next to George Harrison at lunch. He told her, there and then, he wanted to marry her. And in 1966, he did, and they made news around the world. George, always known as the shy Beatle, wrote the evocative song "Something" for his striking Covergirl wife. Meanwhile, Eric Clapton, who had gotten to know the Beatles, had become such a close friend of George's that he invited Eric to play guitar on Harrison's "While My Guitar Gently Weeps." But Eric saw Pattie and became obsessed with his friend's wife beyond reason and pursued her relentlessly. While she was flattered, his affection went largely unreciprocated, driving him to the depths of despair, self-imposed isolation, and addiction.
Pattie describes how stressful and painful her marriage had become as George became openly promiscuous, especially following the Beatles' journey to India to study Transcendental Meditation with Maharishi Mahesh Yogi, the Indian guru who changed his life—and apparently his morality. When Clapton, now leader of Dereck and the Dominoes, brought the intensely emotional rock classic "Layla," he'd written for her, fresh from the studio to play for her secretly, her resolve weakened. Soon they were meeting furtively, and though George was angry when he found out, he did not try to stop them. It was as though his friendship with Clapton was more important to him than his marriage. The passion unwinding between this strange triangle is spellbinding and my first choice for this category of books.
---