The Glory of Their Times: The Story of the Early Days of Baseball Told by the Men Who Played It
By Lawrence S. Ritter,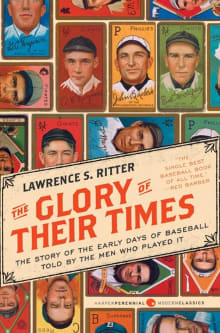 Why this book?
In the early 1960s, author Lawrence Ritter traveled around the United States, interviewing men who had played Major League Baseball in the late 1890s through the early part of the 20th century. The result is a fascinating account of baseball and America in that long-ago era. With a bulky reel-reel tape recorder, Ritter lets each ballplayer tell their own story of what the game was like before radio and television. Most of the men interviewed were in their late seventies and early eighties but were able to accurately remember a particular game or incident from half a century ago. Within the pages, baseball legends come to life, including Ty Cobb, Honus Wagner, John McGraw, and Christy Mathewson.

---