Will You Miss Me When I'm Gone? The Carter Family & Their Legacy in American Music
By Mark Zwonitzer, Charles Hirshberg,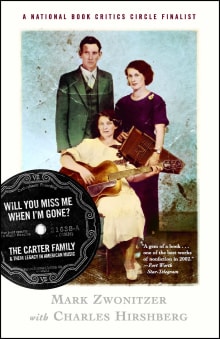 Book description
The first major biography of the Carter Family, the musical pioneers who almost single-handedly created the sounds and traditions that grew into modern folk, country, and bluegrass music.

Meticulously researched and lovingly written, it is a look at a world and a culture that, rather than passing, has continued to…
Why read it?
2 authors picked Will You Miss Me When I'm Gone? The Carter Family & Their Legacy in American Music as one of their favorite books. Why do they recommend it?
Joel Selvin
Who knew the story of the first popular country music group would be wrapped around a heart-breaking romance? The poor, backwoods musicians from southern Virginia had sold more than a million records at the height of the Depression, but things were not well with the group. Sara Carter, the wife of stern, difficult A.P. Carter, leader of the group, had fallen in love with his young cousin. He was sent away to live in California and never mentioned again until one night many years later, when Sara dedicated a song to him on one of their late-night Mexican radio broadcasts.…
Ronald Kidd
Several years ago, my editor, knowing how much I love biography and music, sent me this book as a present.
What a wonderful story! In my imagination I bounced along dirt roads with the Carters in 1927 as they traveled to Bristol, Tennessee, for the recording sessions that became known as the "big bang" of country music. After the sessions, I hitched a ride with A.P. Carter and his African American friend Esley Riddle as they drove into the hills and hollers, seeking songs for the Carter Family to record.
By the time I returned from my travels, I was…