Tolkien's Legendarium
By Verlyn Flieger, Carl Hostetter,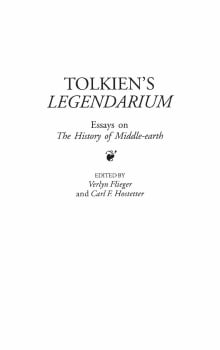 Book description
As a scholar of medieval languages and literature, J.R.R. Tolkien brought to his fiction an intense interest in myth and legend. When he died in 1973, he left behind a vast body of unpublished material related to his fictive mythology. Now edited and published as The History of Middle-earth by…
Why read it?
1 author picked Tolkien's Legendarium as one of their favorite books. Why do they recommend it?
Richard Middleton
This one's for the hardcore Tolkien reader, but it's a gem. It's a collection of academic essays on The History of Middle-earth, (the foundational stories that lie behind Tolkien's more popular works, some of which made it into The Silmarillion). Flieger and Hostetter are giants of Tolkien academia, and their individual works are well worth seeking out. The essays cover language, theme, structure, mythology, and other areas of literary criticism. As a writer, one in particular struck a chord with me: Hammond's A Continuing and Evolving Creation. This explores how Tolkien actively worked on his vast mythology…