Today We Die a Little!
By Richard Askwith,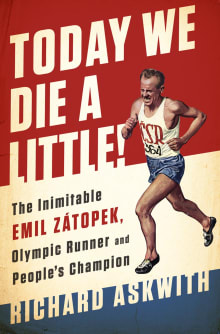 Book description
"We are different, in essence, from other men. If you want to enjoy something, run 100 meters. If you want to experience something, run a marathon." --Emil Zatopek For a decade after the Second World War, Emil Zatopek--"the Czech locomotive"--redefined the sport of distance running, pushing back the frontiers of…
Why read it?
1 author picked Today We Die a Little! as one of their favorite books. Why do they recommend it?
Nicholas Smith
There has never been (nor will there likely be) a runner like Emil Zatopek. His crowning achievement, a gold medal in the 5000m, 10000m, and the marathon in a single Olympics, has never been equaled, before or since. Yet the "greatest runner of all time" was more than just medals. Besides his Rocky Balboa-esque training regimen, Zapotek stood up to Soviet tanks during the Prague Spring. For this action, the runner was punished for years with a string of humiliating and strenuous jobs, before finally having his image rehabilitated in 1989. Known for his pithy quotes, the title of the…