The Promised Land
By Nicholas Lemann,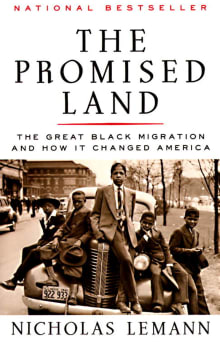 Book description
A New York Times bestseller, the groundbreaking authoritative history of the migration of African-Americans from the rural South to the urban North. A definitive book on American history, The Promised Land is also essential reading for educators and policymakers at both national and local levels.
Why read it?
2 authors picked The Promised Land as one of their favorite books. Why do they recommend it?
David G. Nicholls
The Promised Land is written in an engaging, eloquent style that makes it an excellent introduction to the history of the Great Black Migration. A noted journalist, Lemann interviewed dozens of migrants and their descendants to create a richly textured story of their experiences. Layered onto this story is description and analysis of the political contexts for the migration, including the civil rights movement and the Great Society programs. He follows a group of Black Americans from the Mississippi Delta to Chicago and, in some cases, back. He shows how the migration affected not just the migrants themselves, but America…
Mark Whitaker
The first journalist and popular historian to devote an entire volume to the Great Migration, Nicholas Lemann is particularly insightful about how the exodus changed the demographics and politics of Northern cities, and by extension the shape of the modern Democratic and Republican parties and the great social policy battles of the post-World War II era. Written a decade before this New Orleans native became the Dean of the prestigious Columbia School of Journalism, Lemann's book provides a master class in explanatory reporting.