The Cowboy Who Stole My Heart
By Melinda Carroll,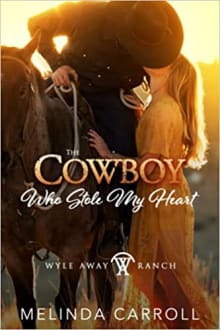 Book description
Only two things stand between Skye and the life she craves: a priceless necklace and a hot cowboy. Not necessarily in that order.
Skye Stanton enjoys catering for Aunt Judy's reception center about as much as she likes sour milk and day-old sushi. But she's trapped as long as Judy…
Why read it?
1 author picked The Cowboy Who Stole My Heart as one of their favorite books. Why do they recommend it?
Janette Rallison
First of all this book has a hot cowboy in it. *Swoons* As far as wish-fulfillment goes, I think most women would like to date a cowboy. Cowboys love horses, have muscles, and wear cool hats. I'm not sure why women ever stopped making men wear hats (top hats especially—every man looks better in a top hat) so I especially appreciate a man in a cowboy hat. 
However, I wouldn't like a cowgirl's schedule of getting up at the crack of dawn to do ranch work, which is why it's so nice to vicariously live through this book. You get…