Riding on the Roar of the Crowd
By David Gowdey,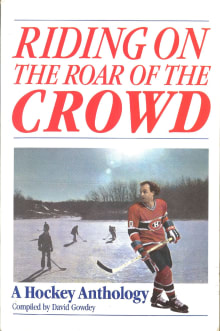 Book description
A thirty-item collection of magazine articles, book excerpts, poetry, a one-act play and the transcript of a Foster Hewitt radio broadcast ... the best single book about hockey I've come across... a rare, worthwhile project in sports literature- Steven Wickens, Financial Post
Why read it?
1 author picked Riding on the Roar of the Crowd as one of their favorite books. Why do they recommend it?
Tim Falconer
I love this collection of writing about hockey. It includes memoirs, essays, magazine articles, book excerpts, fiction, poetry, and even a one-act play about the game. Some of my favourites are an elegantly written 1954 magazine article by Hugh MacLennan called "Fury on Ice"; Morley Callaghan's "The Game that Makes a Nation," an essay on Canada's "national drama"; Hugh Hood's riveting close-up look at Jean Beliveau's artistry; and Mordecai Richler's sad look at a retiring Gordie Howe, who sidelines as an Amway salesman. This book is so full of great reads.