Peter and Wendy
By James Matthew Barrie,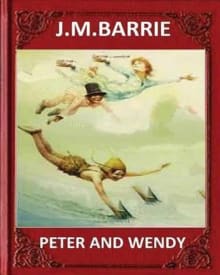 Book description
Peter Pan; or, the Boy Who Wouldn't Grow Up or Peter and Wendy is J. M. Barrie's most famous work, in the form of a 1904 play and a 1911 novel. Both versions tell the story of Peter Pan, a mischievous yet innocent little boy who can fly, and has…
Shepherd is reader supported. We may earn an affiliate commission when you buy through links on our website. (learn more)
Why read it?
3 authors picked Peter and Wendy as one of their favorite books. Why do they recommend it?
Cal R. Barnes
The spirit of Peter Pan is something I've always admired since I first remember seeing the 1953 Disney film as a boy, and then later reading JM Barrie's classic novel in young adulthood. He's a boy that lives every day for adventure, and I feel that is a great way to approach life. The quality of the writing is both poetic and dark for a children's story, and explores themes that are still relevant today, such as freedom, choice, power, and the innate human desire to overcome circumstances and break free from limiting beliefs. It's such an incredible world and…
John Leonard Pielmeier
How's this for an opening? "All children, except one, grow up... You always know after you are two. Two is the beginning of the end." I read this and I was hooked. (Pun intended.) Believe me, this is not just a children's book. Barrie wrote this novel several years after his play Peter Pan was first produced (in fact the book is sometimes retitled Peter Pan) and when I discovered it, it took me places (philosophically and emotionally) that the play never dreamed of. It's beautifully written, intensely funny, and as imaginative a piece of literature as you'll ever…
Jeremy McLean
How could I not include this classic pirate crew with a ship named after the very flags pirates fly? The Jolly Roger and Hook are undoubtedly the most recognizable figures amongst fictional pirates.
The Jolly Roger crew is on my list because it's a whole new experience reading it as an adult and because of the differences between Disney and the source material. The Jolly Roger was large, imposing, and the crew a fearsome, bloodthirsty bunch. The captain, Hook, is the perfect antithesis to Peter's childish attitude. He's handsome, well educated, and used the hook not just as a weapon…