One Minute to Midnight
By Michael Dobbs,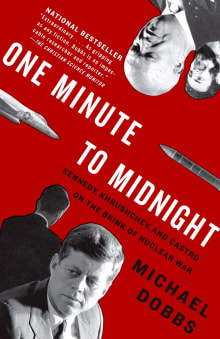 Book description
October 27, 1962, a day dubbed Black Saturday in the Kennedy White House. The Cuban missile crisis is at its height, and the world is drawing ever closer to nuclear apocalypse.

As the opposing Cold War leaders, John F. Kennedy and Nikita Khrushchev, mobilize their forces to fight a nuclear…
Why read it?
2 authors picked One Minute to Midnight as one of their favorite books. Why do they recommend it?
Francis Gary Powers Jr.
Back in October 2012, I organized the 50th-anniversary conference on the Cuban Missile Crisis for The Cold War Museum and George Mason University. Michael Dobbs was one of the panelists along with Sergei Khrushchev and Dino Brugioni. It was great to hear Michael Dobbs talk about his book and the research he did to bring this history alive. It was an honor and privilege to join him again in October 2022 as a co-panelist for the DIA's 60th-anniversary conference on the Cuban Missile Crisis. As a result of his research, this book was named as one of five non-fiction books…
Giles Milton
Michael Dobb's book describes a pivotal and potentially catastrophic episode of the Cold War. In October 1962, the United States and the Soviet Union came to the brink of nuclear conflict over Khrushchev's decision to base Soviet missiles in Cuba. Dobbs recounts the story of the Cuban Missile Crisis as a nail-biting chronicle of the Cold War's most dangerous point of crisis. It includes a gripping account of Khrushchev's plan to destroy America's Guantanamo naval base and the story of a missing spy plane over Siberia. Solid history, but written like a thriller.