Not Afraid of the Antichrist
By Michael L. Brown, Craig S. Keener,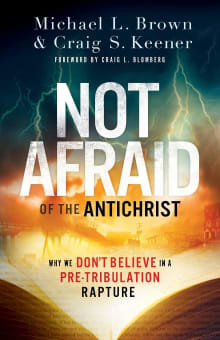 Book description
Despite the popular theology of our day, Christians should not expect to get out of experiencing the tribulation or the end times. Nowhere in the Bible does the Lord promise us this, say Michael Brown and Craig Keener, two leading, acclaimed Bible scholars. In fact, they say, Jesus promises us…
Why read it?
1 author picked Not Afraid of the Antichrist as one of their favorite books. Why do they recommend it?
K.J. Soze
Some of the big topics within Bible prophecy are the Great Tribulation Period with the Antichrist at the helm, and whether Bible believers will be raptured before or after this period of distress. The authors tackle this tough question with sound biblical evidence to support their claims.
Unfortunately, their findings go against many popular opinions of the modern Church and there is great debate amongst believers about the Rapture. This is why their book is very important to provide much needed information for those who hold differing views.