Mao's Third Front
By Covell F. Meyskens,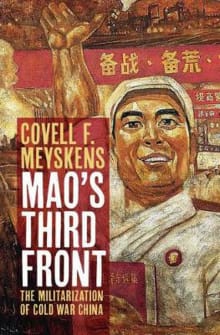 Book description
In 1964, the Chinese Communist Party (CCP) made a momentous policy decision. In response to rising tensions with the United States and Soviet Union, a top-secret massive military industrial complex in the mountains of inland China was built, which the CCP hoped to keep hidden from enemy bombers. Mao named…
Why read it?
1 author picked Mao's Third Front as one of their favorite books. Why do they recommend it?
Lorenz M. Lüthi
Mao's Third Front is one of the first books on life and the economy in the PRC of the Cultural Revolution that marries archival research to memoirs and oral history. Largely unknown outside of China, the Third Front was a strategic relocation program of vital industries and whole cities to the country's hinterland during the 2nd Vietnam War and the Cultural Revolution. It essentially amounted to the largest government investment program in the Mao period. Meyskens's book manifestly shows how closely the global Cold War and local developments interacted with each other.