KINO and the KING
By Jen Angeli,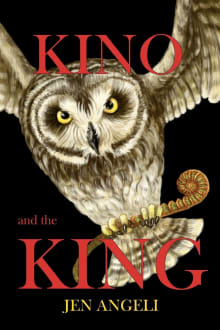 Book description
Want to escape into an epic adventure back in time? Pick up a copy of KINO and the KING and follow Kino Kahele on her visit when Hawaii was a young nation, and the Kamehameha Dynasty ruled the land. After Kino receives a pohaku (stone), that is supposed to help…
Why read it?
1 author picked KINO and the KING as one of their favorite books. Why do they recommend it?
Lehua Parker
With a sacred stone in hand, twelve-year-old Kino hides from bullies in an ancient grass hut on display at Bishop Museum. In a blinding flash, she travels back in time to 1825 and meets a young boy who is destined to become King Kamehameha III. Together they go on an epic adventure facing sharks, Night Marchers, wild boars, and more as they collect the four items Kino needs to return home. I love this fantasy story with Hawaiian kids as heroes because it treats Hawaiian history and culture as both magical and ordinary rather than sensationally exotic.