Free to Choose
By Milton Friedman, Rose Friedman,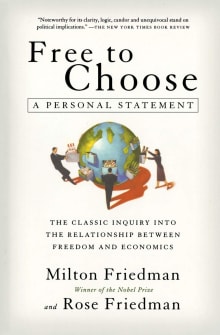 Book description
Argues that free-market forces work better than government controls for achieving real equality and security, protecting consumers and workers, providing education, and avoiding inflation and unemployment.
Why read it?
2 authors picked Free to Choose as one of their favorite books. Why do they recommend it?
Kawika Miles Black
America is a fantastic country that has offered more opportunities to change one's economic status than any other country. That being said, few understand why this has even been made possible by the Free Enterprise System and how it is at risk by careless policies, flippant politicians, and complacent citizens within their communities.
I no longer wanted to be a part of that group of people and figured who better to learn about economics than Milton Freidman. While this book is dense with information, the economic principles are articulated in such a straightforward fashion that even a college dropout like…
William D. Danko
To build wealth, we need an environment that allows for unequal outcomes. The Friedmans argue that using societal or governmental force in the name of equality will destroy the environment where we are free to choose how wealth is grown. In their words: Freedom "preserves the opportunity for today's disadvantaged to become tomorrow's privileged and, in the process, enables almost everyone, from top to bottom, to enjoy a fuller and richer life." Let the market determine the outcome. Bad ideas will wither away, and good ideas will thrive.