Empires and Barbarians
By Peter Heather,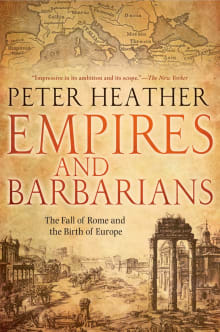 Book description
At the start of the first millennium AD, southern and western Europe formed part of the Mediterranean-based Roman Empire, the largest state western Eurasia has ever known, and was set firmly on a trajectory towards towns, writing, mosaics, and central heating. Central, northern and eastern Europe was home to subsistence…
Why read it?
1 author picked Empires and Barbarians as one of their favorite books. Why do they recommend it?
James Calbraith
Peter Heather's work is one of the broadest in scope on the topic of the European 'Barbarians', while still retaining enough detail to keep the reader's attention pinned. A great starter for this period of history, encompassing the entire first millennium AD, the time when the heart of European civilization gradually moved from the Mediterranean South to the cold Barbarian North. It reads like a novel – but is supported by years of painstaking research. If you can only read one book on Barbarian Europe, this is the book.