Dangerous Friend
By Rig'dzin Dorje,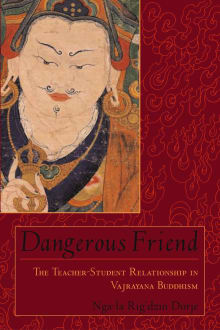 Book description
Although Tibetan Buddhism continues to grow in popularity, the crucial relationship between teacher and student remains largely misunderstood. Dangerous Friend offers an in-depth exploration of this mysterious and complex bond, a relationship of paramount importance in Tibetan Buddhist practice.

According to Tibetan Buddhist tradition, the student must have complete trust…
Why read it?
1 author picked Dangerous Friend as one of their favorite books. Why do they recommend it?
Beth Hedva
Dangerous Friend is an Eastern wake-up call for Western 'seekers' and 'would-be spiritual teachers'. Drawing from Vajrayana teachers, Rig'dzin Dorje clarifies betrayal is a "final portal of freedom…in which we are able to question…our narcissistic determination to maintain the illusion of duality." As a transpersonal psychologist, I've noticed sometimes Western seekers who hunger for enlightenment imagine devotion to their Spiritual Teacher will give them a ticket to ride a wave of bliss into nirvana.
A teacher must betray a student's fantasies, attachments, and delusions, (including those about their teacher), in favor of devotion to the teachings. Despite a…