Cruel Beauty
By Rosamund Hodge,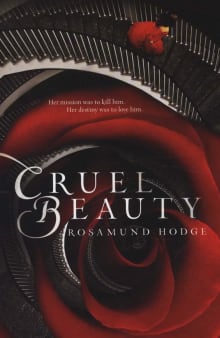 Book description
If you're excited about the upcoming Disney film Beauty and the Beast, starring Emma Watson, don't miss Cruel Beauty. The romance of Beauty and the Beast meets the adventure of Graceling in this dazzling fantasy novel about our deepest desires and their power to change our destiny. Perfect for fans…
Why read it?
3 authors picked Cruel Beauty as one of their favorite books. Why do they recommend it?
Aamna Qureshi
Nyx will do anything to save her people, including marrying the terrible Ignifex, the evil ruler of her kingdom. But there is more to Ignifex than she initially imagined, and as Nyx falls in love with him, she fights to find a way to save both her people and her love. This book portrays such fun banter between Nyx and Ignifex and poses a truly difficult riddle that is bound to break your heart.
Samantha Gillespie
This is one of the most original retellings of Beauty and Beast I've read. The author creates a unique world of Greek mythology mixed with dark lore and fantasy that draws you in. I like flawed characters, and Cruel Beauty does not disappoint in this area. The main character, Nyx, is a morally gray heroine who is angry and bitter and conflicted, but also brave, snarky, and defiant, and you can't help but root for her. And then there's Ignifex, the charming villain who steals her heart, adding a complex, star-crossed lovers romance, which I'm a big sucker for. Cruel…
Joanna Ruth Meyer
This brilliant Beauty and the Beast retelling has hints of Bluebeard, and begins with the iconic line "I was raised to marry a monster." The story follows Nyx, who lives in a world with a parchment sky, and is forced to become the bride of the Gentle Lord—the prince of demons who cursed her homeland centuries ago. But Nyx's father has trained her all her life to break the curse, and to kill the Gentle Lord. Fueled by anger and bitterness, Nyx is both terrified by and drawn to Ignifex. As she navigates the maze of rooms in his magical…