American Caesar
By William Manchester,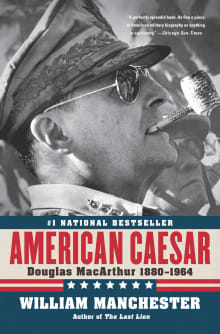 Book description
Inspiring, outrageous...A thundering paradox of a man. Douglas MacArthur, one of only five men in history to have achieved the rank of General of the United States Army. He served in World Wars I, II, and the Korean War, and is famous for stating that "in war, there is no…
Why read it?
1 author picked American Caesar as one of their favorite books. Why do they recommend it?
James N. Butcher
Manchester's biography of Douglas MacArthur provides a sympathetic but generally evenhanded characterization of MacArthur's personality and life contributions.  He provides a detailed background of MacArthur's military history and his capability of managing complex administrative duties in a complex world.  He acknowledged MacArthur's skill and bravery in challenging circumstances.  In balance of his descriptions of MacArthur, he also noted complex circumstances in which he was difficult to deal with and sometimes suspicious and mistrustful of others. In his characterization of MacArthur as "Julius Caesar" he characterized MacArthur as having great intellect, brilliant strategic generalship, and political ambition as well as compassion.