Last Black King of the Kentucky Derby
By Crystal Hubbard, Robert McGuire (illustrator),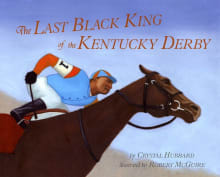 Why this book?
Jimmy "Wink" Winkfield was an accomplished athlete of his day though his memory today has faded. Crystal Hubbard's powerful narrative and Robert McGuire's gorgeous drawings transport readers to another time and place and shine a light on the last African American jockey to win the Kentucky Derby. I love how the story unfolds and shows a loving child growing into a determined young man overcoming every obstacle the world sets in front of him. The tale is timeless and the historical context provides an important learning point to open a dialogue between the old and young. 
---