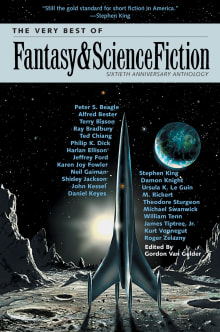 The Very Best of Fantasy & Science Fiction: Anthology
By Gordon Van Gelder
Why this book?
Ray Bradbury and I share birthdays, so I wanted to include him, and he is one of the greats included in this anthology. It also features Philip K. Dick, Stephen King, Roger Zelazny, Ursula K. Le Guin, Neil Gaiman, and more amazing authors. The story, "All Summer in a Day," is so powerful that it stayed with me my entire life (I read it in 1964, age 9!). I think it stuck with me because it depicts a group of kids my age at that time bullying another classmate into missing out on a once-in-a-lifetime opportunity out of sheer meanness…
From the list:
The best speculative fiction books that every science fiction author needs to read
When you buy a book we may earn a small commission.