Where Wizards Stay Up Late
By Katie Hafner, Matthew Lyon,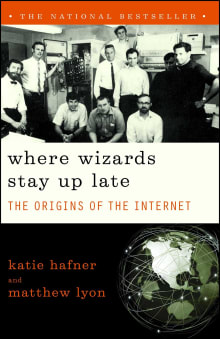 Book description
In the 1960s, when computers were regarded as giant calculators, J.C.R. Licklider at MIT saw them as the ultimate communication device. With Defence Department funds, he and a band of computer whizzes began work on a nationwide network of computers. This is an account of their daring adventure.
Shepherd is reader supported. We may earn an affiliate commission when you buy through links on our website. (learn more)
Why read it?
2 authors picked Where Wizards Stay Up Late as one of their favorite books. Why do they recommend it?
Raphael Cohen-Almagor
This book tells the fascinating story of the visionary pioneers who created the internet. The wizards are the internet's forefathers. They were determined visionaries and doers. In the 1960s, when computers where regarded as mere giant calculators, J.C.R. Licklider, the first director of the American Information Processing Techniques Office, saw them as the ultimate communications devices. The early internet was devised and implemented in American research units, universities, and telecommunication companies that had vision and interest in cutting-edge research. Licklider, Vint Cerf, Steve Crocker, Len Kleinrock, Larry Roberts, Robert Kahn, and David Clark articulated the vision of a "galactic" computer…
Rick Umali
This superb book describes the creation of the Internet, the very network on which you're reading these words. The key company behind its creation was a little consulting company called Bolt Beranek and Newman (BBN). It was full of smart technical people, and Hafner and Lyon paint vivid portraits of their personality traits and their working styles. 
The authors also spend a lot of time describing how the network was put together, and its early growth. I like this book because the key ideas behind their work endures to this day. And this book shows the effort and energy…