The Salamander Room
By Anne Mazer, Steve Neil Johnson (illustrator), Lou Fancher (illustrator)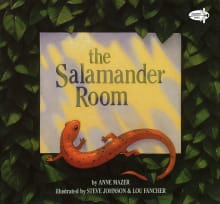 Book description
Title: The Salamander Room <>Binding: Paperback <>Author: AnneMazer <>Publisher: DragonflyBooks
Why read it?
1 author picked The Salamander Room as one of their favorite books. Why do they recommend it?
Curtis Manley
Brian found a beautiful, little orange salamander in the woods and took it home. When his mother asks where it will sleep, Brian's concern for making the salamander feel at home leads him to suggest how to keep it comfortable—by making the house more and more like the forest the salamander came from... 
With its thoughtful text and absolutely gorgeous illustrations, this book was a favorite in our home when my daughter was young.