The Saga of the Volsungs
By Unknown, Jackson Crawford (translator),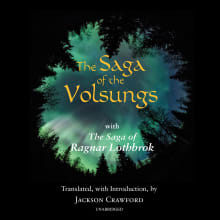 Book description
From the translator of the bestselling Poetic Edda (Hackett, 2015) comes a gripping new rendering of two of the greatest sagas of Old Norse literature. Together the two sagas recount the story of seven generations of a single legendary heroic family and comprise our best source of traditional lore about…
Why read it?
1 author picked The Saga of the Volsungs as one of their favorite books. Why do they recommend it?
Jackson Crawford
The closest thing to a "novel" from medieval Scandinavia, The Saga of the Volsungs was written down in the 1200s in Iceland by an author who knew the poems about the Volsungs in the Poetic Edda, but also knew a vast wealth of additional poems about them that are otherwise lost to us. Rather than transmit the poems directly, this unknown author chose to attempt to put together a cohesive story of the sprawling generations of this family, beginning with the fathering of their first ancestor by the god Odin and continuing through all the events that lead Odin himself…