Postwar
By Tony Judt,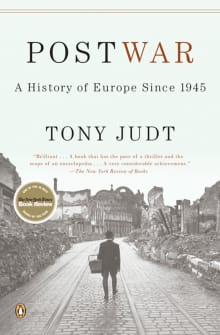 Book description
Finalist for the Pulitzer Prize * Winner of the Council on Foreign Relations Arthur Ross Book Award * One of the New York Times' Ten Best Books of the Year

"Impressive . . . Mr. Judt writes with enormous authority." -The Wall Street Journal

"Magisterial . . . It is,…
Why read it?
3 authors picked Postwar as one of their favorite books. Why do they recommend it?
Adin Dobkin
My own background, process, and style have me reaching for ever-tinier stories that I think I can go deep on, in order to hopefully excavate something larger. Judt's Postwar is the opposite: a colossal swing at a multi-decade period across European history. In this, he synthesizes political, economic, social, and cultural histories to guide the reader through Europe's development after World War II. It's a book where you find yourself going over each line a few times in order to make sure you've wrung all meaning from it and every sentence returns you to your notes.

Peter J. Verovšek
The late Tony Judt was one of the best, most insightful, and engaging historians of postwar Europe. Unlike many other histories of this period, Postwar covers the whole continent on both sides of the iron curtain. This is a thick book, but a quick read. Judt sprinkles a lot of interesting anecdotes and asides into his narrative. He also does a great job of highlighting the political legacies of the memories of both world wars. The epilogue on "the past as a foreign country" is a wonderful introduction to the politics of memory in postwar Europe.
Keith Lowe
This is a big book – a real wrist-breaker – but that's what you get if you want the most comprehensive and exhaustively-researched single volume on Europe in the postwar era. Tony Judt covers everything from the immediate wave of vengeance that swept the continent after the Germans were defeated, to the economic miracles of the 1950s and 60s, right through to the formation of the European Union in the 1990s. For anyone interested in postwar European history, this should be your first port of call.

Our community of 9,000+ authors has personally recommended 94 books like Postwar.
5 book lists we think you will like!
Interested in Europe, World War 2, and World War 1?
9,000+ authors have recommended their favorite books and what they love about them. Browse their picks for the best books about Europe, World War 2, and World War 1.
Europe
Explore 832 books about Europe