My Dear Hamilton
By Stephanie Dray, Laura Kamoie,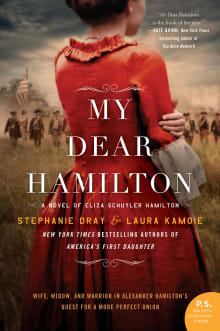 Book description
From the New York Times bestselling authors of America's First Daughter comes the epic story of Eliza Schuyler Hamilton-a revolutionary woman who, like her new nation, struggled to define herself in the wake of war, betrayal, and tragedy. Haunting, moving, and beautifully written, Dray and Kamoie used thousands of letters…
Why read it?
3 authors picked My Dear Hamilton as one of their favorite books. Why do they recommend it?
T.K. Thorne
My Dear Hamilton is a compelling novel of a Revolutionary woman who falls in love with a dashing man destined for greatness and tragedy.
Richly imagined and researched, Eliza's story gives us, on one level, an in-depth understanding of one of American history's founders. But it is also a story about strength, resilience, and forgiveness. I loved this story for the depth of Eliza's character and her untold contribution to history and for what I learned about the details and dynamics of the era that so inform our own time.
Susie Orman Schnall
Ever since I saw Lin-Manuel Miranda's Hamilton on Broadway, I've been fascinated with the life of Eliza Schuyler Hamilton (and all the Schuyler sisters!). Dray and Kamoie beautifully and vividly tell the story of this iconic woman from her coming-of-age as a general's daughter in revolutionary New York to her meeting of Alexander Hamilton to the life she created and endured as Mrs. Hamilton with all of its heartbreaking challenges. This book illuminates Eliza in her own right the way she so richly deserves.
Tracy Lawson
The good girl who marries the rogue is a common theme—but it's even more enticing when the main characters are well-known figures from American history. I appreciated seeing Alexander Hamilton from Eliza Schuyler Hamilton's perspective and learning about her intellect, her accomplishments, and her efforts to hold her family together while supporting the cause of liberty. I cried at the last scene. A fascinating, intimate portrait of a great lady.