Consciousness Unbound
By Edward F. Kelly (editor), Paul Marshall (editor),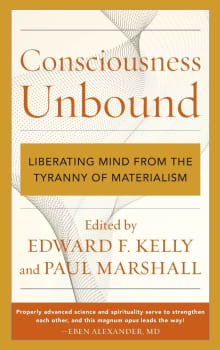 Book description
Building on the groundbreaking research of Irreducible Mind and Beyond Physicalism, Edward Kelly and Paul Marshall gather a cohort of leading scholars to address the most recent advances in the psychology of consciousness. Currently emerging as a middle ground between warring fundamentalisms of religion and science, an expanded science-based understanding…
Why read it?
1 author picked Consciousness Unbound as one of their favorite books. Why do they recommend it?
Allan Combs
This is the third and most important of three recent volumes that have come out of Esalen Institute's Center for Theory and Research. Together they explore dimensions of experience that extend beyond the limits of traditional materialistic science. In Alfred Korzybski's famous words, "The map is not the territory," and nowhere are these truer than regarding the territory of consciousness.
This book explores topics such as reincarnation, out-of-the-body experiences, precognition, and more, offering metaphysical and spiritual models of the place of consciousness in the cosmos. It is remarkable for drawing together an enormous amount of research and scholarship hitherto largely…