Eighty Years and More: Reminiscences 1815-1897
By Elizabeth Cady Stanton,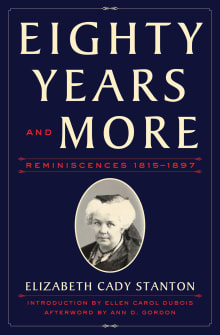 Why this book?
I am recommending this autobiography of the great nineteenth-century feminist intellectual and activist.
Eighty Years and More
is one of the great autobiographies in American history, up there with that of Frederick Douglass and Henry Adams. Stanton told the account of her early years, her path to becoming a reformer, and the epic battles in which she fought for women's rights in an engaging writing style that still speaks to women today. Readers who only know of Stanton through the controversies over her racism and elitism will be well served by learning about the many, path-breaking facets of her life and career. Postscript: go online to read Stanton's great late-life speech, 
The Solitude of Self.
---